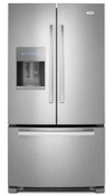 REFRIGERATORS

We have expertise in all refrigerator models by brands like General Electric, Amana, Whirlpool, Kenmore, Frigidaire and Maytag. Every residential and commercial kitchen relies on a fridge. Most fridges operate at a below-ambient temperature of 5°C or 40°F. To keep frozen food at a temperature below freezing (-18 °C or 0 °F), refrigerators are equipped with a freezer & ice maker. Repair for all temperature ratings, makes, and models are the seal of quality you receive with the dependable and experience technicians of Atlantis Appliance Repair. Ensuring that you receive the highest quality refrigerator repair helps to protect the investment of one of your largest kitchen appliances.

We service all types of refrigerators from compressor refrigerators (the most common type) to absorption refrigerators (also known as "chillers"). Whether you are in need of refrigerator repair or freezer and ice maker repair, we are your best solution. With access to quality refrigerator parts from well-known factory distributors for all major imported and domestic brands, combined with extensive knowledge on the intricate inner workings of fridges of every make and model, Atlantis Appliance Repair is here to restore your broken refrigerator into the smooth-running, dependable equipment you need to maintain a well-run kitchen.
---

WASHERS and DRYERS

Is your laundry room plagued by a troublesome washer? Atlantis Appliance Repair specializes in all types of washing machine repair to get you back on track. We repair all brands and models: for example, Whirlpool, Maytag, Kenmore and GE are popular domestic brands that we cater to on a regular basis. However we also deal with more unique foreign brands like LG and Bosch.

Washing machines go hand-in-hand with dryers, so it makes perfect sense that our excellent customer service extends to all your laundry room appliances including affordable clothes dryer repair. In addition to major domestic brands we repair rare European drying machines by Bosch to skillfully extend the lifetime of your high-end appliances. We service either gas or electric dryers. Dryers are primarily constructed with a rotating drum, or tumbler, that circulates heated air in order to evaporate moisture from your wet clothes. A functioning tumbler is imperative to create space between all articles in the load, meaning a problem clothes dryer could be slowing your drying cycles and costing you money in energy bills.
---

DISHWASHERS

The management of an organized, clean and efficient household or business is enabled by the reliance of many modern day appliances like the dishwasher. Repairs can be costly and time-consuming under the care of a lesser-experienced repair company, but Atlantis Appliance Repair turns your problem into a solution with pristine efficiency. We have the ability to diagnose and fix the problems of the all dishwashers including popular American dishwasher brands like General Electric, Whirlpool, KitchenAid, Maytag, and Kenmore. Our technicians are also proficient in rare European brands like Asko, Miele, Bosch, and Fisher & Paykel so your investment is protected by our seal of quality service.
---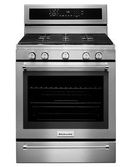 RANGES AND OVENS

Our technicians are educated in all types of oven, stove, range & cook top repair for your Whirlpool or General Electric kitchen equipment. Electric stoves, rotisseries, convection ovens, ventilation hoods, and drop-in ranges differ in many ways from their use (commercial vs. private) to their fuel source (gas vs. electric) and due to their many facets, a highly trained professional is needed. When contacting us, you will be guaranteed an experienced oven, stove, range & cooktop repair technician who repairs leading commercial and home-use brands, both American and European. We have effectively diagnosed and repaired countless ovens, stoves, ranges & cooktops by domestic brands such as Whirlpool, General Electric, Maytag, Amana and KitchenAid. We also specialize in rare European cooktops by brands like Miele and Bosch, and high-end kitchen appliances by Viking, Thermador, Dacor and Dynasty.
---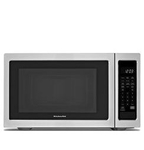 MICROWAVES
Nothing beats a hot TV dinner in a hurry or cup of your favorite hot beverage, but that can't happen if your microwave is broken! A microwave may be a powerhouse of kitchen necessity but it is also a delicate and complicated appliance that requires the experience and know-how of a trained technician. Our microwave repair services extend to major domestic brands such as
General Electric
,
Amana
,
Whirlpool
,
Kenmore
,
Frigidaire
,
Maytag
, and many other
microwave brands
.
---